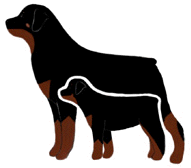 Rotties © 1999 On Task Technologies
Take plenty of walks and naps.Drink lots of water.

Don't think too much.

Never bite the hand that feeds you.

Bark when you feel like it.

Don't let people make you dress up.

Chase your tail… who says you can't amuse yourself?

Stop to smell the roses… the trees… the grass…

Make friends with everyone in the neighborhood.

Don't go for a run without your ID.

Make the people you love feel welcome when they come home.

Wag your tail a lot (eg smile and laugh)…
it's good exercise for the body and soul.

Every now and then, stand out in the rain.
Credits: unknown.