An obsession... an infatuation.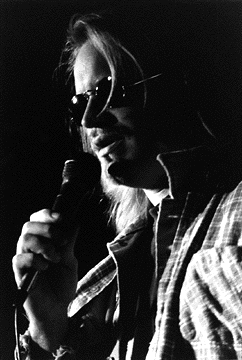 If I see your show
a thousand times... then
*** Still ***
tired not I'll be of
watching you perform
July 31, 1994
Dan--
I walked out onto my front step to watch the dogs relax in the front lawn. Sitting there
Thunder above...
soft breeze of wind rustling leaves...
and chimes, a tintinnabulation of dance...
eyes closed, the rain fell, one drop at a time... each
splash randomly spaced over bare arms and knees felt like being in the arms of Dan.
I will, now, never forget the sensation of a weekend trek to follow a man.
and now off to bed... to dream, yes... of everything newly found.
August 1, 1994
Good morning and such. Thank you for a beautiful weekend... a really fun end to the weekend (excluding the sensual parts) was being able to see your home, look around at your things and hear you talk about your life. I believe you are a very multi talented and deep man. Thank you for letting me into your home and heart... 'looking forward to being your friend.
I am needing to be off to work. I have a lot to think about this new day, inspired from my conversations and endless hugs with you.
Sincerely
August 3, 1994 - 9:57p
Still,
thinking about you,
Today I celebrated a belated birthday... yellow cake with a pineapple layer under the whipped cream, coconut and walnut frosting. I ate my piece slowly, sipping milk served in a chilled root beer mug.
The severe weather scared Walker this afternoon and evening. The sirens sounded and the radio announced an area tornado warning until 6:00p. I hate going into our basement to wait out a storm, so I was glad to hear that the tornado sighting was on the south side of town and heading northeast: a location already passed us. Then, with Walker on my lap, I convinced him that he was safe. About 7:00p, we visited the local library. The rain had stopped temporarily. The gutters splashed and gushed off the building near the community center. Walker climbs out of the Explorer, hears the torrent, sees the cascade and says quite happily, "Mom! The sky is peeing!"
I had a bit of an emotional panic tonight. I walked around the basement to analyze what had actually been taken. Everything was his; no doubt involved. I panicked, nonetheless. Why? I know. The evidence of something gone makes the point more definite that something else will not return.
Babyface For the Cool in You - When Can I see You
When can my heart beat again
When does the pain ever end
When do the tears stop from running over
When does you'll get over it begin
I hear what you're sayin'
But I swear that it's not making sense
So when can I see you
When can I see you again
When can my heart beat again
When can I see you again
And when can I breathe once again
And when can I see you
When does my someday begin
When I'll find someone again
And what if I still am not truly over
What am I supposed to do then
Please hear what I'm sayin'
Even if, if it's not making sense
So when can I see you